We are highly experienced at designing and building models, molds, trim tooling, and detabbers. We also furnish a container design service.
Our current Engineering technology consists of Experienced mold designers and up to date Engineering software. We can create a design on the computer, analyze the volume, create a graphic image then download to our CNC department for model or mold creation. We also have the ability to duplicate an existing part, model or mold through tracing equipment or digitizing. The Design can be transferred to you in almost any platform.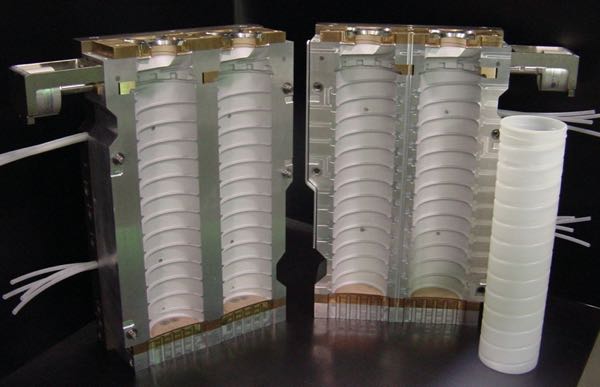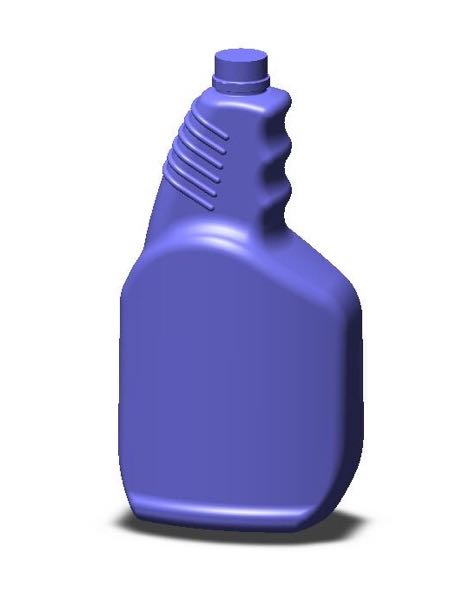 We create models, either math data on a computer screen or solid model, depending on customer requirement. The math data model is used to generate a volume and the solid model is generally used by our customers to confirm both shape and aesthetics.
We build new Blow Molds and rework / rebuild existing blow molds. We use the best of the oldest and newest technologies. Standard machine tools, CNC equipment and the biggest asset of all, our people. Our intent is to provide our customers with:
An outstanding mold design incorporating superior cooling with independent ability to control that cooling, zone by zone.
Design and manufacturing that builds quality into each product.
An inspection system that guarantees we have met our own rigid standards.
A set of molds that fits your machine and produces containers that meet your specification the first time.
A set of tools that will give you long life and ease of maintenance.
Long-term relationships where we know exactly what your likes, dislikes and expectations are.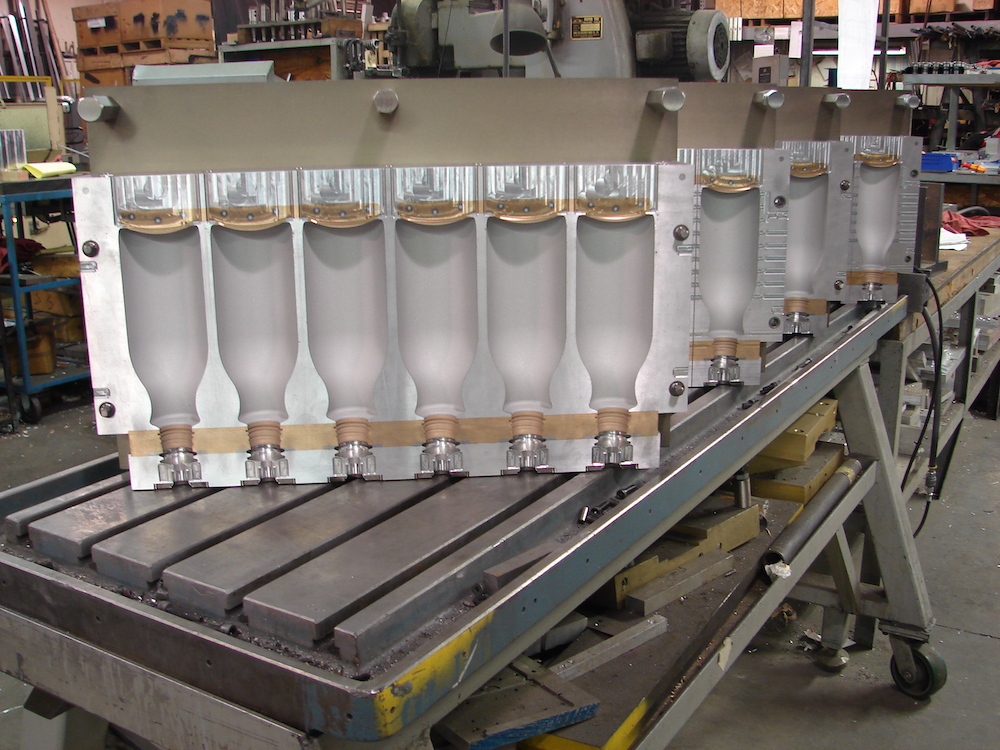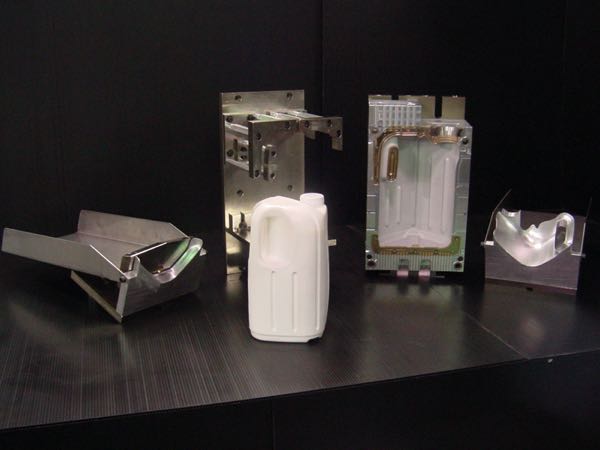 We are also very experienced in the designing and building of trim tooling, (We have been doing this as long as we have been building molds). Some of the machines we have built for are, Uniloy, Ziegler, JBJ Inline, and many other custom made machines.
We are Experts at  – In Machine Transfer and Trimming for machines such as Bekum, Techne,  Kautex,  Fisher, Haysen \ Cincinnati, ect.  We Pay attention to " the fit"  it is not an after thought.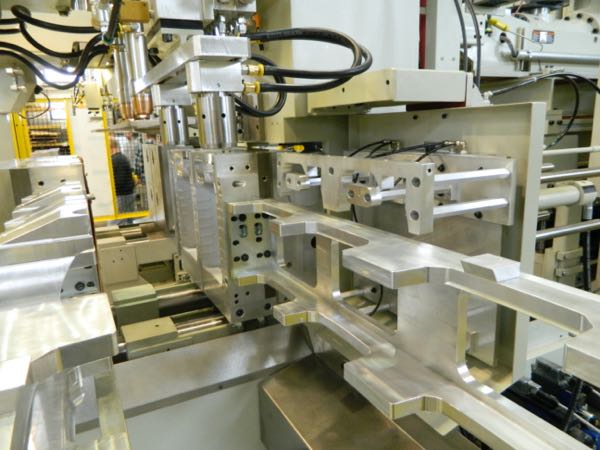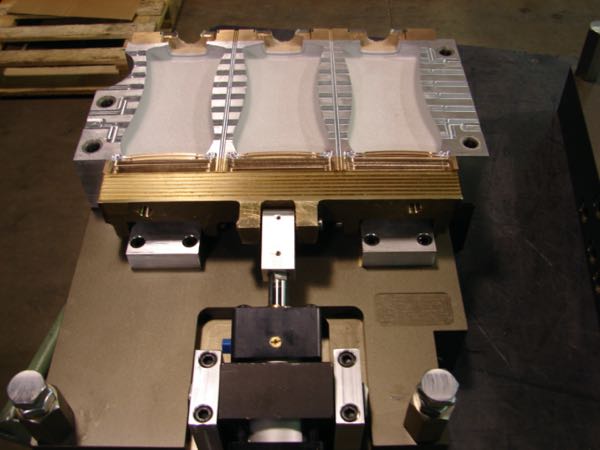 M.C. Molds Builds Dependable Detabbers. We have our own standard designs, (The Best) but we will build to any customer specified design. Our Cylinders have a 5 year Manufacturer warranty. If we build your mold, we extend that  guarantee for the life of your mold.
We produce a line of stand up Spin Trimmers which give you
a finish on your container neck that requires no additional work. One look at this machine will tell you what the term "Made in America" should really mean.
If  you combine our mold with our trimmer you have one source to look to to say good job!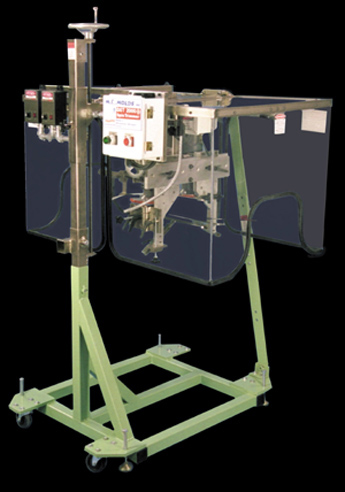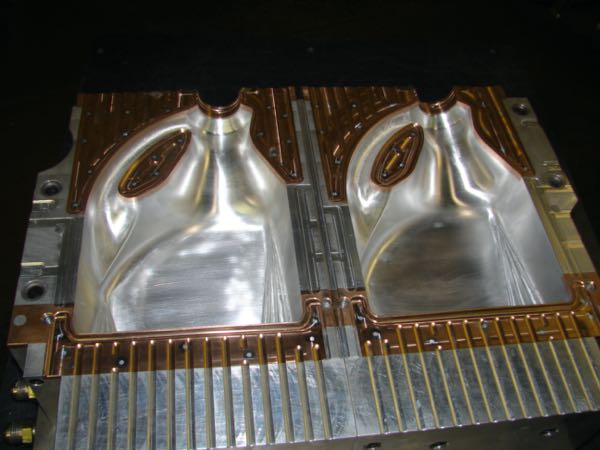 Mold Refurbishment and\or Modification
This is one of the ways some of our existing customers started relationships with us, it offers them an opportunity to see us perform and test our capabilities without a great deal of risk. Mold refurbish and design changes makes up approximately 35% of our total sales and we take it seriously.
We have on numerous occasions responded to requests to repair or change molds on an emergency basis. We have worked around the clock to protect our customers and their customers needs. We believe for us to be successful our customers need to be successful and we are willing to do what it takes to make that happen.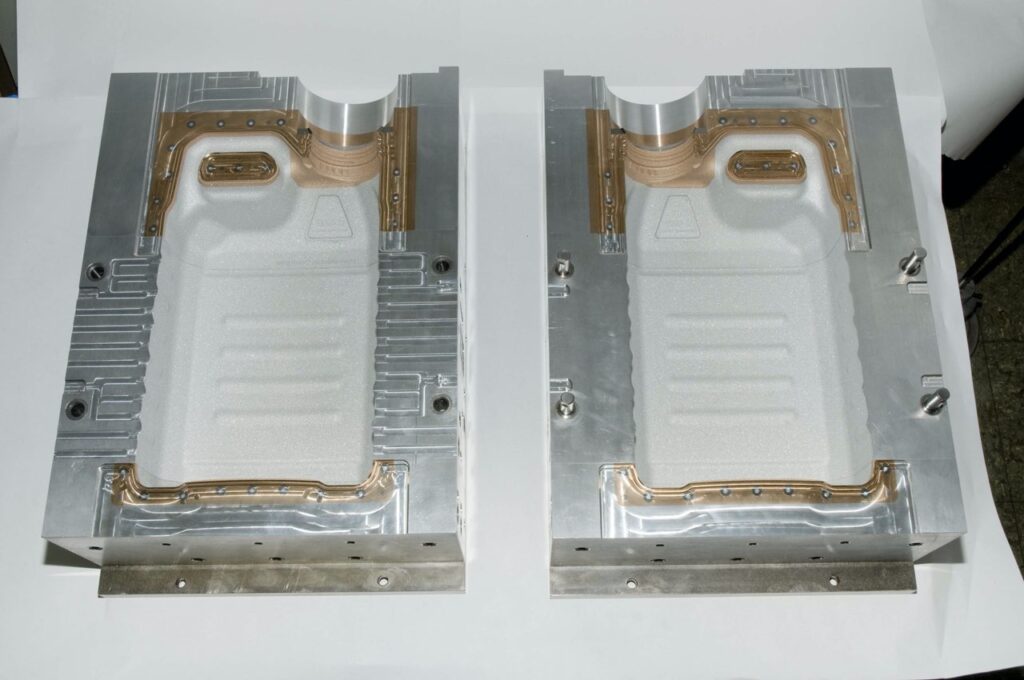 Throughout the project, many inspections occur. All of
which are documented and are available upon request.
When an order is received, a detailed project schedule is created, then monitored throughout the project to assure an on time delivery is made. If any changes occur that could jeopardize a delivery date the customer is immediately
notified. Weekly updates are supplied when requested.